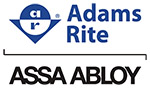 Adams Rite MS1850S-410 1-1/2" Backset Deadbolt For Aluminum Door
Description
The MS1850S Series MS® Deadlock utilizes a laminated stainless steel bolt, activated by a pivot mechanism to provide maximum security for a single leaf narrow stile door.

Function
A huge bolt of laminated stainless steel, nearly three inches long, activated by an uncomplicated pivot mechanism, has made this basic MS® Deadlock the standard of the narrow stile door industry. The length of this bolt provides maximum security for a single leaf door, even a very tall and flexible one or an installation where the gap between the door and jamb is greater than it should be.

Operation
360° turn of key or thumbturn throws or retracts the counterbalanced bolt. Key can be removed only when bolt is in a positively locked or unlocked position. Lock accepts any standard 1-5/32" diameter mortise cylinder or thumbturn from either or both sides. Cylinder must have MS® dimensioned cam.
Specifications
Cylinder Backset: 31/32", 1-1/8", or 1-1/2" only
Case: Steel with corrosion-resistant plating, measures 1" x 6" x depth. Depth varies by backset (see table in catalog).
Bolt: 5/8" x 1-3/8" x 2-7/8" with 1-3/8" throw. Eight-ply laminated stainless steel. Center ply has alumina-ceramic core to defeat any hacksaw attack, including rod-type "super" hacksaws.
Faceplate: Measures 1" x 6-7/8"
Strike: See catalog page for dimensions of strike slot which can be cut in metal jamb. Trim plate, box strike, and armored strike are available separately.
Cylinder Cam: MS1850S Deadlocks are operable by any standard 1-5/32" diameter mortise cylinder with MS® cam, dimensioned as shown. Cylinders with MS® cams can be readily obtained from most cylinder manufacturers. See CYLINDERS section for cylinder make, thumbturn and trim ring information.
Downloads