Features
Rugged clutch mechanism and Grade 1 durability ensure long life
Retrofits standard knobsets
1000 event audit trail log, time-stamped by day, date, time and user
150 scheduled automatic lock/unlock events etc.
200 user codes: Master, manager, supervisor and basic users
Also one-time service code 3-6 digits
Weatherproof
5AA battery operated; 80,000 cycles typical
Specifications
Door Thickness: 1 5/8" to 1 7/8''
backset: 2-3/4'' standard
Sold Less Cylinder
SC1 keyway
Latchbolt: UL Listed, fire rated, 3 hours, 1/2" throw, solid brass, deadlocking. Reversible. Adjustable front for flat or beveled doors.
Strike: 1 1/8" x 2 3/4" T strike & 1 1/4" x 4 7/8" ASA strike included. With screws for wood or metal jambs
Latch Front: 1 1/8" x 2 1/4" wrought brass or stainless steel
Non Handed
Finishes Available: Satiin Chrome, Duronodic, Bright Brass
Door Prep: Standard ANSI A115 Series Prep, modified by adding additional through-bolt holes
Compliances: Grade I, heavy duty cylindrical lockset, UL listed to the 10C Positive Pressure Specification and FCC certified. ADA compliant levers.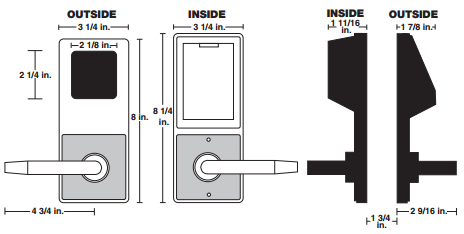 Template
Installation & Programming Videos