Installation Instructions
Simply put, the Falcon T-Series lock is the most versatile lockset in the industry. This extra heavy duty lock can accept any manufacturer's cylinder, and the cylinder can easily be removed for quick, easy re-keying. Redesigned with a compression spring behind the cylinder, the T-Series is now stronger than ever and lever sag has been virtually eliminated. This adaptable lock is well suited to either new construction or retrofit use in buildings as varied as multi-family, retail, institutional and government/military.
Features and Benefits
Key-in-lever cylindrical locksets shall be Falcon Lock T Series or equal and meet the following requirements:
All locks shall meet the new ANSI/BHMA A156.2, Series 4000,Grade 1 for key-in-lever locksets.
Locksets shall be UL Listed (3 hour A Label).
Locksets shall be provided standard with Pressure Release™feature. When outside lever is locked, it is not rigid but will move freely without operating the latch bolt.
Lever trim shall have individual heavy-duty compression springs behind rose for lever return and to prevent lever sag. Trim shall be through-bolted with two (2) 10-32 screws coated with thread sealant to provide strength and resistance to loosening. Inner Elevation Door Edge Standard Strike
All lever designs shall be solid and meet the federal ADA and state disability requirements. Inside levers shall be attached by Allen-head set screw to prevent tampering or vandalism.
Locksets shall adjust to fit door thickness from 1-3/4" to 2- 1/8".
All locksets shall be non-handed and not require field disassembly for re-handing.
Preparation for door must be non-handed.
Acceptable manufacturer: FALCON LOCK
Specifications
Door Thickness: 1-3/4" to 2-1/8" standard.
Backset: 2-3/4" standard.
Mechanism: Parts constructed of brass or cold formed steel, zinc plated and dichromated for rust resistance. Springs are stainless steel.
Attachment: Lock chassis secured to door by threaded mounting nuts. Completely preassembled outer trim and inner spindle assembly are through-bolted over chassis using (2) 10-32 screws. Adding rose and lever to inner spindle assembly completes installation.
Handing: Locks are non-handed.
Cylinders: Drilled with 6-pin chambers, pinned in 5. Cylinder assemblies removable to rekey.
Keyways: "G" keyway standard on conventional cylinders.
Trim: Roses are heavy wrought brass or bronze, installed over pressure cast rose inserts which are through-bolted through door. Levers are pressure cast (solid levers–no inserts) material finished to match mating parts.
Latches: 9/16" bolt projection, UL listed with latch faceplates 2-1/4" x 1-1/8" with square corners standard.
Strikes: 4-7/8" x 1-1/4" ANSI strike with curved lip to meet ANSI A115.2 door frame preparation standard.
Screws: Furnished with combination screws for use in wood or metal doors and frames.
Certifications
ANSI/BHMA: Meets ANSI/BHMA A156.2, Series 4000, Grade 1.
UL: 3 hour A label. and outer trim shall "bottom out" to prevent door collapse. Roses shall be minimum of 3-1/2" diameter.
High performance compression springs
Falcon T series locks feature our high performance compression springs. This newly designed spring far exceeds ANSI/BHMA requirements for cycle tests, and ensures the most robust support for levers. Unlike typical torsion springs that can break at the bend points, this new design will provide years of reliable service even in high-use applications. A retrofit kit is available to outfit your existing T series locks with this new, more robust spring design.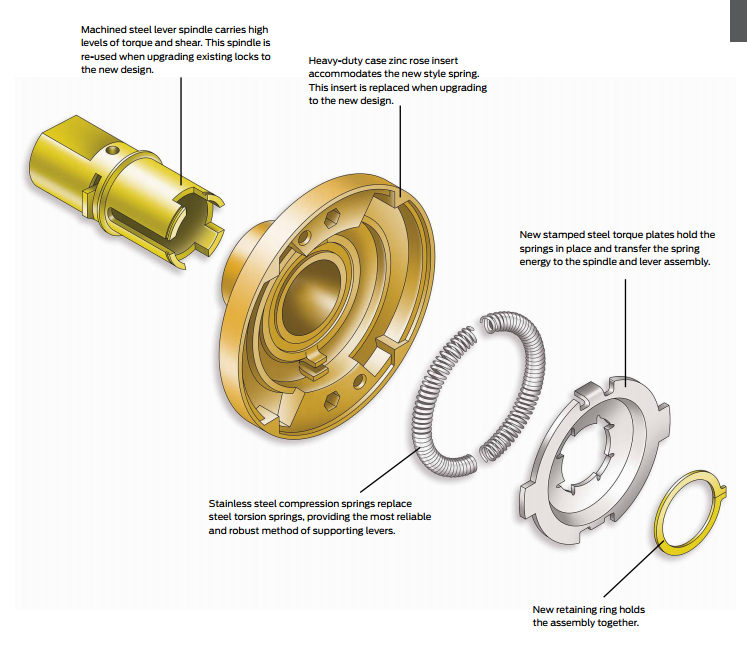 Models Available
T101S: Passage
T301S: Privacy
Lever Design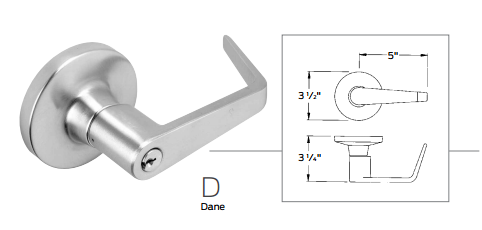 Available Finishes

Functions