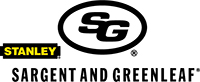 Features
The 4400 family of safe deposit locks represent an industry standard, trusted by financial institutions worldwide for over 80 years .
Factory matchwork is available on request to match virtually any manufacturer's guard key, as long as a sample of the key is provided to us .
The pick resistant lever design also resists advanced decoding techniques .
S&G safe deposit locks are all key retaining for added security in daily operations .
All locks on this page are Listed by Underwriters Laboratories under Standard 437.
Two renter keys are provided with each lock . Renter sides are keyed different . Guard keys are not provided .
All locks on this page have brass plated covers and plugs.
Specifications
Renter Nose
Diameter

Guard Nose
Diameter

Nose Height

Guard
Setting

.672" (17 mm)
.672" (17 mm)
0.5" (12,7 mm)
#4