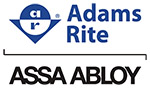 Adams Rite MS1850S-250 1-1/8" Backset Hook Bolt Deadlock
Description: The MS1850S-050 Series MS® Deadlock utilizes a laminated stainless steel hookbolt, activated by a pivot mechanism to provide maximum security for a sliding narrow stile door.
Function: The MS1850S-050 Deadlock answers the security need of sliding glass doors in commercial, industrial, and institutional buildings. The mechanism is identical to the widely used Maximum Security swinging door lock, except that the massive laminated bolt is provided in a hook shape to resist the parting motion of sliding door and jamb. The over-center MS locking action assures that forced entry attempts to pry the door in any direction, up, down, or sideways will be defeated.
Operation: 360° turn of key or thumbturn throws or retracts the counterbalanced bolt. Key can be removed only when bolt is in a positively locked or unlocked position. Lock accepts any standard 1-5/32" diameter mortise cylinder or thumbturn from either or both sides. Cylinder must have MS® dimensioned cam.
Specifications:
Cylinder Backset: 31/32", 1-1/8", or 1-1/2" only
Case: Steel with corrosion-resistant plating, measures 1" x 6" x depth. Depth varies by backset (see table on catalog page).
Bolt: 5/8" x 1-3/8" with 13/16" throw. Eight-ply laminated stainless steel. Center ply has alumina-ceramic core to defeat any hacksaw attack, including rod-type "super" hacksaws, while hook shape repels pry bar attempts to "spread" the door from its jamb or lift it off its track.
Faceplate: Measures 1" x 6-7/8"
Strike: See catalog page for dimensions of strike slot which can be cut in metal jamb. Trim plate, box strike, and armored strike are available separately.
Cylinder Cam: MS1850S-050 Deadlocks are operable by any standard 1-5/32" diameter mortise cylinder with MS® cam, dimensioned as shown. Cylinders with MS® cams can be readily obtained from most cylinder manufacturers. See CYLINDERS section for cylinder make, thumbturn and trim ring information.