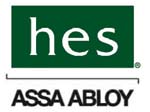 Installation Instructions
The 5000 series is a compact, high performance electric strike designed for low profile openings where there is limited space behind the jamb. Its strength is derived from a unique keeper pin locking design, enabling the 5000 to exceed the ratings of the frame, door and locking hardware. This field selectable fail secure/fail safe unit is easy to install and accommodates latchbolts up to 5/8" throw.
Specifications
UL 1034 burglary-resistant listed and suitable for outdoor use
ANSI/BHMA A156.31, Grade 1
MEA New York City accepted
Patent #5,934,720
Frame application
Electrical
.24 Amps at 12 VDC/VAC
.12 Amps at 24 VDC/VAC
DC continuous duty/AC intermittent duty only
Standard Features
Tamper resistant
Static strength 1,500 lbs.
Dynamic strength 70 ft-lbs.
Endurance 500,000 cycles
Field selectable fail secure/ fail safe
Dual voltage 12 or 24 VDC/VAC
Non-handed
Internally mounted solenoid
Accommodates 1/2" - 5/8" latchbolt (5/8" with 1/8" door gap)
Strike body depth 1-1/16"
Plug-in connector
Trim enhancer included
Five year limited warranty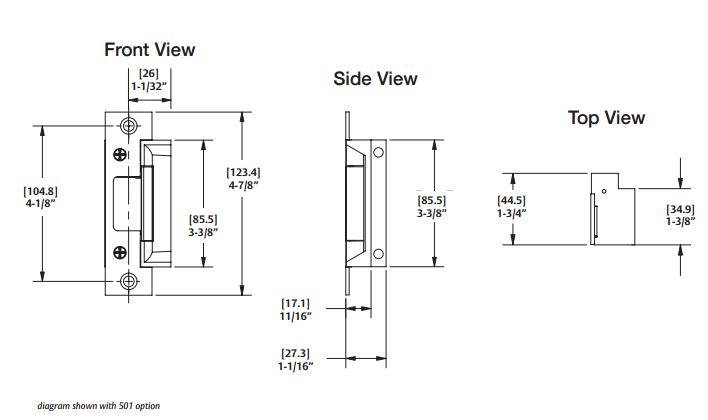 The 5000 Series is also available in a Complete One Box Solution (5000C):
The 5000C has a compact design for easy installation. Works with cylindrical and mortise locksets upt to a 3/4" throw latchbolt and is a Grade 1, low profile solution.

Each Complete Pac conveniently pairs the reliability of HES electric strike with the flexibility of multiple faceplates in a single simple package. The 5000C includes a 5000 strike body, the 501 faceplate for cylindrical locksets in ANSI metal jambs and the 501A faceplate for cylindrical locksets or spring latches in aluminum frames.
Faceplate options
501 (

4-7/8" x 1-1/4", square corners & flat faceplate

) For use with cylindrical locksets in ANSI metal jambs. ANSI/BHMA Numbers: #E09321, #E09322, #E09323
501A (4-7/8" x 1-1/4", radius corners & flat faceplate) For use with cylindrical locksets. Includes universal mounting tabs. Aluminum frames. ANSI/BHMA Numbers: #E09321, #E09322, #E09323