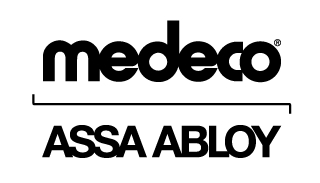 The Medeco® System Series padlock offers a high security solution for a multitude of applications and are available in two distinctive body styles, an indoor/outdoor weather resistant design or with a shrouded shackle. Both models utilize a boron alloy steel shackle which provides protection to resist cutting and increased tensile strength to resist pulling attacks. The boron alloy steel also ensures that the shackle has an exceptional degree of ductility and is not brittle. The cylinder itself uses hardened, stainless steel inserts to provide the ultimate defense against drilling, pulling and other forms of vandal attack. Patented key programs prevent the unauthorized duplication of keys and maintain system integrity. Medeco's new premium high security padlocks can be keyed alike, keyed differently, or masterkeyed with existing door hardware systems. The Medeco3 unique design provides triple locking action, making the locks virtually pick proof. All Medeco3 keys and locks are protected under patent, trademark, and copyright laws. Medeco3 keys may only be duplicated by Medeco® or by a Medeco® authorized sales outlet, and only at your request.
Patented Key Control Protects against unauthorized duplication of your keys.
Protection From Physical Attack Medeco3 padlock cylinders are UL 437 listed and stand up to drilling, picking and other forms of physical attack.
Proprietary Deadlocking Shackle Boron alloy steel shackles protect against cutting and pulling attacks.
Technical Features:
Available with either a 5/16 inch or a 7/16 inch shackle diameter.
Available in Indoor/Outdoor weather resistant design or with a shrouded shackle.
The shrouded shackle design provides extra shackle protection against cutting attacks.
All Medeco® cylinders are constructed of durable machined brass components, designed to last the life of your equipment.
Boron alloy steel shackle which protects against cutting and pulling attacks.
Applications: Used in a variety of different indoor or outdoor applications where high security and key control are a primary concern.
Warranty: Warranted for two (2) years against manufacturer's defects.
Finishes: The padlock comes in a standard black body cover and the cylinders are furnished in the satin brass finish.