Arm-A-Dor A101-001 Maximum Security Panic Exit Hardware
Arm-A-Dor secure panic hardware offers 24-hour protection, keeping intruders out while providing life-saving security from within. Developed for retail backdoor security by retail industry construction experts, Arm-A-Dor has many commercial, industrial and institutional applications.
Arm-A-Dor secure panic hardware is actiually three products in one:
Locking bar protection for security from the outside
Built-in alarm to protect against inside theft
Panic Device Operation - Life Safety Compliance
Arm-A-Dor provides superior safety and security for its users. Your facility will be secured against back door break-ins with a product designed not only to lock your facility, but strengthen your door system.
This protection is provided at the same time that life safety is secured. Arm-A-Dor allows you to exit through the back door, even when fully locked, by simply pushing against the product push panel.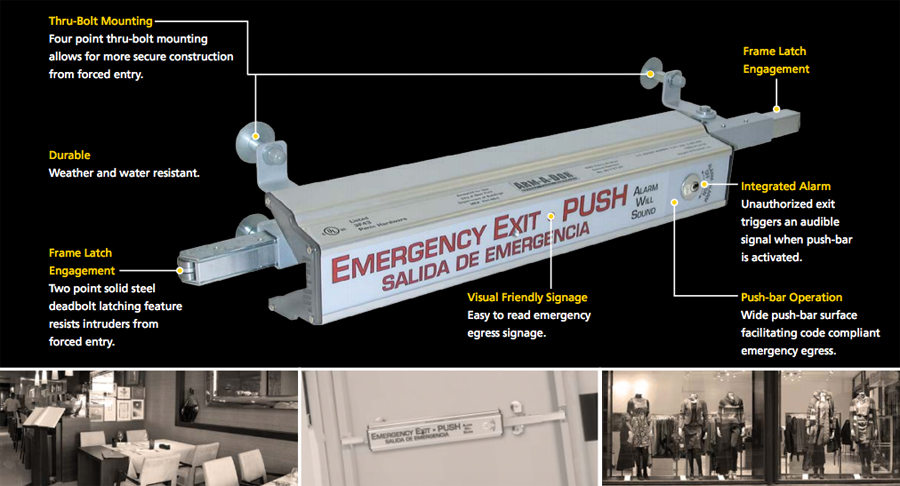 Arm-A-Dor helps save money by reducing replacement of drop bars, and by reducing theft out the back door of your operation (Arm-A-Dor's alarm features can also help reduce internal theft out the back door). Arm-A-Dor does more than provide superior security - it maximizes life safety, as well.
Arm-A-Dor provides not only life safety and security benefits - it is a cost-effective security solution. You'll never replace a drop bar again. Arm-A-Dor's Nuisance Alarm and Tamper features will help you reduce theft out the back door. You will also face fewer scheduled service and replacement calls with Arm-A-Dor than with other alternatives.
Your operation, and employees, safer. Your security costs, controlled, and calculable. Arm-A-Dor makes it all possible.
Provides 24 Hr. Security Protection
Meets Life Safety Codes
5 Year Warranty
Arm-A-Dor panic hardware also enjoys the following Features and Benefits:
Features

Deadbolt locking bar members extend 1 1/2" over frame on each side
Automatic or manual relocking models
Alarm operated with a variety of standard or interchangeable core mortise cylinder
Compatible with existing BEST key systems
Optional remote switch operates timed delay egress systems with cameras or other alarms
Compatible with time delay access products

Code Conformance

UL LISTED — Panic and Fire Exit Hardware. UL10C, UBC 7-2, and UL305
Hurricane Devices — Miami-Dade County Product Control Division has approved Arm-A-Dor ® Series A100-INS
Conforms to NFPA 101, ICC A117.1 section 404.2.6

Alarmed Models

Battery operated - approx. 1 yr. life; two 9V batteries included
Low battery audible warning signal
Loud alarm, 2 piezo horns; 95 db @ 10ft.
Tamper Alarm
Nuisance Alarm
Optional AC adapter with battery back-up
Re-arm reminder feature

Installation

Retrofit or new construction work
One size fits doors 36" to 48" wide
No special door preparation
Works on any door and frame
Non-handed
Shipped with all required hardware for standard single door applications
Double-door applications work on fixed or removable center mullions, or without mullions

Mechanical Efficiency and Durability

Roller design deadbolt means reduced friction and wear
Touch-bar operates with straight push-through motion
Weather and water resistant
| | | | | | |
| --- | --- | --- | --- | --- | --- |
| Model | | | | | |
| | | | | | |
| | | | yes | | (2) 9 volt batteries included |
| | | | no | | |
| | | | yes | | (2) 9 volt batteries included |
| | automatic relock, fire rated | | no | | |
| | automatic relock, fire rated | | yes | | (2) 9 volt batteries included |
| | automatic relock, pre-assembled | | no | | |
| | automatic relock, pre-assembled | | yes | | (2) 9 volt batteries included |
| | automatic relock, pre-assembled | | no | | |
| | automatic relock, pre-assembled | | yes | | (2) 9 volt batteries included |
* Alarm units require a standard 1 1/8" mortise cylinder to allow the alarm control to be keyed into existing systems. For this reason, the mortise cylinder is not supplied with the exit device

Arm-A-Dor Installation Guide

Arm-A-Dor Installation Troubleshooting Guide