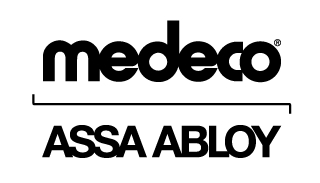 Medeco 11-621 Double Cylinder Maxum Deadbolt Grade 1
The Medeco® Maxum deadbolt exceeds ANSI Grade 1 standard for auxiliary locks. Solid brass, free turning collar and 1/4 inch diameter mounting bolts resist wrenching, prying and hammering attacks. One inch throw hardened steel bolt resists sawing and crowbar attacks.
Hardened steel inserts and rotating pins provide drill and pick resistance according to UL 437 standard. The Medeco3 design offers a utility patent that provides protection against unauthorized key duplication.
The Maxum deadbolt can be ordered with a variety of different cylinder technologies. To compare the mechanical features, see the chart below.
Benefits:
Solid brass collar spins under pressure to prevent wrench attacks
Large thumbturn provides ease of use by physically challenged individuals
Steel shroud over bolt protects against "ice pick" type attacks
High security strike plate has a special box design with 2 inch screws that anchor the strike directly to the building structure behind the frame, preventing "kick-in" type attacks
Hardened steel bolt and bolt throwing mechanism are surrounded by a heavy-gauge tubular steel housing for maximum resistance to crowbar attacks
Solid brass design is secured with high-tensile steel mounting bolts for maximum resistance against hammer and prying attacks
Utility patented key control, (for cylinders that incorporate the Medeco3design), provides protection against the unauthorized duplication of keys
A special elevating and rotating pin tumbler design, along with false slots on the bottom pins, mushroom top pins and a sidebar mechanism, work together, to provide superior pick resistance
Angled cuts on the keys, along with fore and aft positioning, in the Medeco3 design, provide added dimensions that dramatically increases key combinations and enables Medeco

®

to produce some of the largest master key systems in the industry
Hardened steel inserts, positioned in critical areas of the cylinder, provide a high degree of drill resistance
UL437 listing provides assurance that cylinders meet universal standards for drill and pick resistance and resistance against other types of forced attack
Applications:
Bolt mechanism designed to accommodate both mortise and drive-in applications, which provide greater flexibility and ease of installation