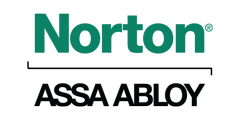 Norton 7700 Series 7705PTDO 24V Power Track® Electromechanical Closer-Holder Master Unit Controlled by Integral Smoke Detector
The Power Track® Series combines the function of a single-point electromechanical door holder with the proven reliability of a standard 7700 Series door closer. The track assembly contains an arm slide and solenoid operated hold open mechanism and is available with or without an integral smoke detector. Shipped with a track only, the closer is mounted on the door; the track and hook-up box are mounted to the frame face or frame soffit depending on the installation requirements. The degree of door hold open is selected by adjustment of the telescoping arm. Any power interruption will release the arm slide and the door will close. The door can be manually released at any time.
Standard Features
Selective Single-Point Hold Open:

The Power Track® has one template position. The single-point hold open position is selected by adjusting the telescoping arm with a hex drive set screw. Hold open range is 85° thru 110° in approximately 3° increments.

Non-Handed:

Units are non-handed except when ordered with "DE" Double Egress arms.

Choice of Push or Pull Side Installation:

No prefix indicates pull side application. Prefix "P" for push side installation.

Choice of Supply Voltage:

Available in 24VAC/DC or 120VAC, 60Hz. voltages. Power to these devices must be within a range of (+) 10% (-) 15% of the stated voltage.

Fail Safe: In the event of a power outage, the Power Track solenoid will be de-energized and the closer/holder will then operate as a normal door closer.

Wiring Option:

Both pull and push side applications will accommodate either concealed or surface wiring. The hook-up box will accept 3/4" (19mm) conduit. Each Power Track is supplied with a thin-walled conduit nut to attach the conduit clamp. The hook-up box base is prepared for surface wiring. State and local building codes will dictate the type of wiring.

Spring Cushioned Dead Stop:

A spring-loaded buffer block at the point of hold open prevents over travel of the arm slide and provides a cushioned dead stop. Use of an additional wall or floor stop is always recommended.
Norton 7700PTO Support Unit, push side installation
Norton 7700PTO Support Unit, pull side installation