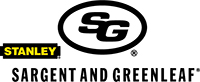 Sargent and Greenleaf 2006-108 Titan PivotBolt Electronic Safe Lock
Underwriters Laboratories Listed Type 1, VdS Class 2, CEN B, A2P B, DNV, and RoHS (Reduction of Hazardous Substances) compliant.
The Titan PivotBolt™ lock features a new design, motor driven locking mechanism for an extra measure of security and longer battery life.
Lock bolt retraction and extension is controlled by the movement of the safe's boltwork.
The Titan PivotBolt™ automatically locks to re-secure the safe whenever the container's boltwork moves to the fully closed position, discouraging the common (non-secure) practice of day-locking.
The Titan PivotBolt™ is connected to the keypad only by cable, which means the lock does not need to be placed directly behind the keypad. It can be located anywhere on the inside of the safe door.
S&G Magic Module footprint for easy retrofit, and it's universally handed and reversible for RH, LH, VU, and VD mounting.
Three modes of operation: Multi-User, Manager/Employee, Dual Control.
Management reset code, one master code, one supervisor code, eight user codes, and one time delay override code*. The management reset code (MRC) lets you set a new master code of your own choosing if the old master code is lost or forgotten.
The Titan PivotBolt™ has a penalty time feature to prevent opening by entering sequential or random codes until a valid code is found.
All programming is quickly and easily done via the keypad (no separate programming equipment required).
The lock bolt model withstands 225 lbs. (1000 newtons) of bolt end pressure for a high level of security in boltwork blocking applications.
Can be used with the S&G 2-battery keypad, standard 1-battery keypad (lighted and non-lighted), or the non-rotating low profile keypad.
Features:
Reliable, secure motor actuated locking mechanism.
Lock bolt is retracted and extened by the movement of the safe's boltwork.
One million codes to choose from.
Field programmable (via keypad) for single control, and employee/manager modes; changeable at any time.
Default operating mode is single control, but the lock can easily be set to a permanent dual control mode.
One master code, one supervisor code, one time delay override code, seven user codes (eight user codes if time delay override is not enabled).
Factory programmed Management Reset Code can be changed to an MRC of your own choosing during the initial lock setup (MRC is not available if the lock is set to dual control mode).
Programmable time delay of one to ninety-nine minutes can easily be programmed and activated from the keypad.
Time delay opening window can be set from one to fifteen minutes.
Penalty lockout feature shuts the lock down for ten minutes if five or more incorrect codes are entered in a row to deter random code entry attempts.
All programming is accomplished via the keypad; no special programming tools required.
Deadlocking, motor-blocked bolt withstands over 225 lbs. of end and side pressure.
Uses S&G's "Magic Module" footprint to match the mounting dimensions of most mechanical and electronic locks.
The Titan PivotBolt is reversible and can be mounted RH, LH, VU, and VD with no alterations.
Low profile keypad is only 1" (25.4 mm) high, and is 3 3/4" (9.5 cm) in diameter.
Sargent & Greenleaf Model 2006 Data Sheet
Sargent & Greenleaf Model 2006 Installation Instructions
Sargent & Greenleaf Model 2006 / 2007 Safe Lock Bolt Position Indicator
Sargent & Greenleaf Model 2006 Operating Instructions