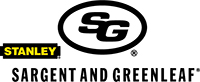 Features:
Completely redesigned locking mechanism based on the proven security of a rugged, motorized blocking device.
Lock bolt retraction and extension controlled directly by turning the keypad ring.
Attach boltwork or a blocking bar directly to the lock bolt or to optional locking bars without fear of overwhelming the lock's drive mechanism or accelerating wear.
Three Keypad Selectable Modes of Operation: Multi-User, Manager/Employee, Dual Control
Multiple Codes: One Master Code, one Supervisor Code, eight User Codes, one Time Delay Override Code and a Management Reset Code.
Holdup Protection: lock gives yo a tme delay up to 99 minutes and a time delay override code for instant cash carrier access.