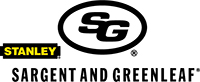 Sargent and Greenleaf 6120-309 Electronic Lock Only
Features:
Underwriters Laboratories Listed Type 1, and RoHS (Reduction of Hazardous Substances) compliant.
A motor-driven lock bolt offers a high level of security by eliminating the threat of vibration and bouncing attacks.
Management reset code, one master code, and eight user codes.
Management reset code (MRC) restores the lock to its original factory code if the master code is lost.
Time delay up to 9 minutes.
The 6120 Series incorporates a penalty time feature to prevent opening by entering sequential or random codes until a valid code is found.
The deadlocking square bolt model withstands 225 lbs. (1000 newtons) of bolt end pressure for a high level of security and durability in boltwork blocking applications.
Non-deadlocking spring bolt model is designed for lightweight and inner compartment doors that require the lock to latch and secure the door.
Can be used with the Biometric Keypad, 2-battery keypad, standard 1-battery keypad (lighted and non-lighted), and the low profile keypad.
Can be used with either a one-battery or two-battery keypad.
Sargent & Greenleaf 6120 Data Sheet

Sargent & Greenleaf 6120 Installation Instructions

Sargent & Greenleaf 6120 Operating Instructions