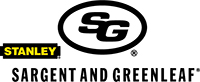 Sargent and Greenleaf D690-012 Front Reading Key Lock Satin Chrome
Ring sold separate
3.750" (95.3mm) ring diameter Satin Chrome finish Five disc tumbler lock with Y13 keyway.
Dials & Rings for 6600/6700 Series Locks.
Dials are equipped with single spline 5 ⁄16" - 40 spindles.
A spindle is pressed into a dial with its spline keyway aligned to either 41 or 50 on the dial.
The #41 splining location is required to ensure full lock bolt extension when key-locking dials are locked down with zero under the opening index.
Dial spindles will accommodate a maximum door thickness of 3.4 inches (86.5 mm).
Thicker doors require a special order dial.
Dial rings are shipped with dial ring bearings and necessary mounting hardware for standard installations.