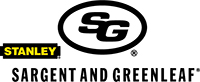 Sargent and Greenleaf 6123-501 Comptronic Latch Bolt Safe Lock Only
Features:
One million codes to choose from.
Field programmable (via keypad) for single control, dual control, and employee/manager modes; changeable at any time.
One master code, one supervisor code, one time delay override code, five user codes.
Time delay override can be either single control or dual control.
Capable of a management reset code.
Programmable time delay of one to ninety-nine minutes can easily be activated from the keypad.
Time delay opening window can be set from two to nine minutes.
Penalty lockout feature shuts the lock down for five minutes if four or more incorrect codes are entered in a row to deter random code entry attempts.
All programming is accomplished via the keypad; no special programming tools required.
Deadlocking, motor driven bolt withstands over 225 lbs. of end pressure.
Also available in spring latch version for container doors without boltwork.
Uses S&G's Magic Module footprint to match the mounting dimensions of most mechanical and electronic safe locks.
Can be used with either a one-battery or two-battery keypad.
Sargent & Greenleaf 6123 Data Sheet

Sargent & Greenleaf 6123 Installation Instructions

Sargent & Greenleaf 6123 Operating Instructions